Overview
Give Back Market (GBM): A unique e-commerce/fulfillment platform to connect smallholder growers with consumer and corporate gift markets. The system directs the retail portion (35%-50%) to International Aid Agencies and local Food Banks. By minimizing the supply chain the platform provides Fair Trade market access while generating significant revenue to reduce food insecurity and its devastating consequences.
Farmer–> E-commerce & Fulfillment –> Consumer
The difference between the Give Back Market and industry leaders like Amazon is that the market is built on a Fair Trade, Social Purpose model – ensuring that farmers receive a fair price and that the retail portion of the consumer spend is directed to causes addressing poverty, hunger, food security and other social issues.
Traditional wholesale/retail has what is called Keystone pricing where the retailer uses a 100% markup – i.e. buy for a dollar, sell for two. In the grocery sector, for example, the retailer buys a product for $6.50 and marks it up to $10.00. In this market system the retailer is social cause.
The GBM platform is 75% complete and will be launched in Q4 2023. This prototype Give Back Market is up and running and there is a first iteration that is generating revenue for the 50 Million Meals Campaign that helps subsidize much needed protein for Food Banks. The 50MM campaign rationale is that If 1/10 of one percent of North Americans chose Kampot Pepper as their tabletop choice fifty million meals a year can be delivered through the Food Bank system as they can deliver up to ten meals for every dollar they receive.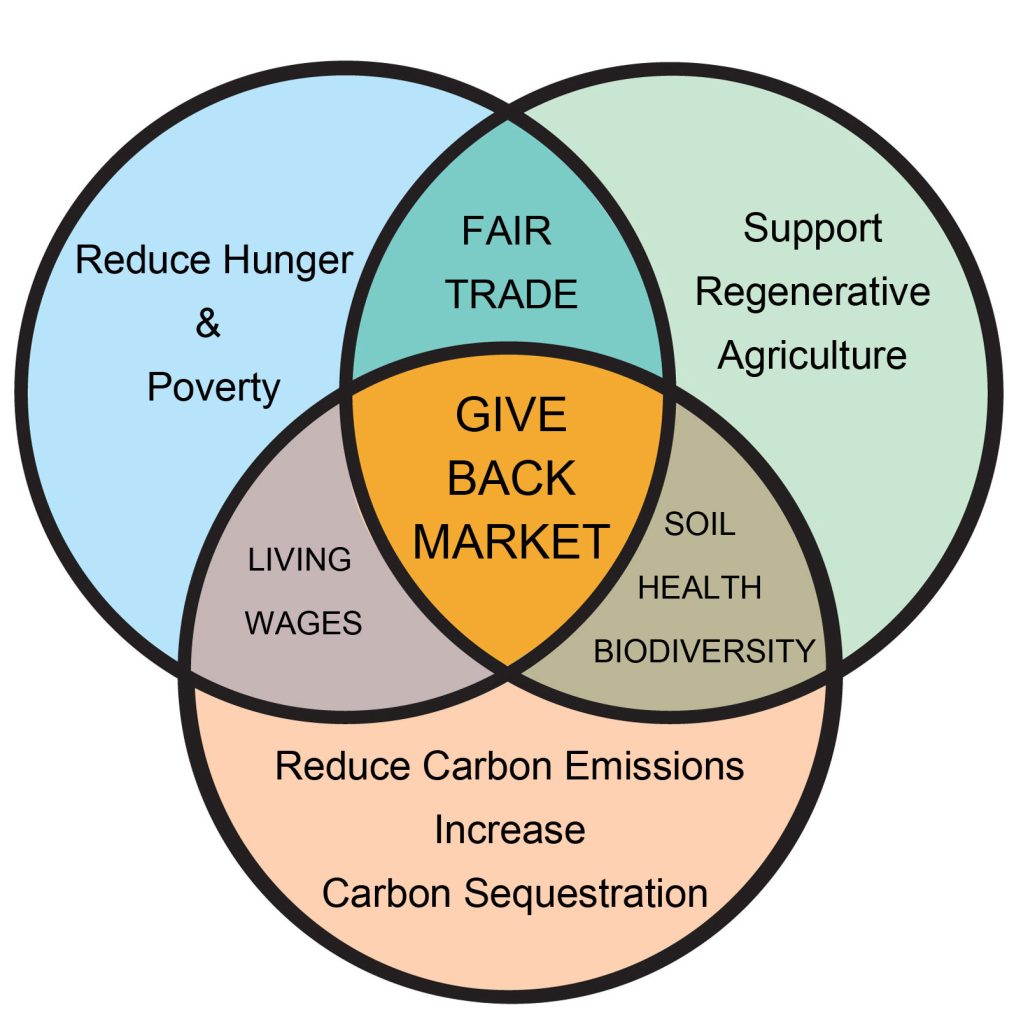 We are creating a Community Contribution Corporation (Social Impact Foods CCC Inc) – a hybrid corporate structure that in its articles of incorporation commits to distributing 60% of profits to social benefit in perpetuity. The CCC will work with International Aid Agencies to create a Playbook for smallholder collectives to organize and participate in this market system.
A targeted social purpose marketing system will not only generate significant revenue to help reduce hunger and poverty it will create employment and training opportunities for smallholders around the globe and living wage employment in the countries that it operates in.
Besides raising smallholders out of poverty and generating ongoing revenue streams to help fight poverty and hunger there are numerous ancillary benefits such as: restoring and preserving soil health, preventing desertification, protecting our pollinators, promoting bio-diversity and gender equality as over half of smallholder workers are women and girls yet they only represent 20% of land ownership and revenue share. Possibly the most important is the positive climate effect as organic farming sequesters carbon. Here is a great video on Agroecology:
Below is a screenshot of our Sub-Campaign page on the platform. Please note the information is for demonstration purposes only: