One person is likely dying of hunger every 48 seconds in Ethiopia, Kenya and Somalia.

Source: Oxfam

The situation in East Africa is dire. Millions are at risk of starvation. They need our help. The Give Back Market directs up to 35% of all revenue to help alleviate food insecurity and other worthwhile causes. During this crisis 50% of all proceeds from Kampot Pepper sales will be donated to aid agencies working to help alleviate the suffering.
---
Soaring food prices driven by the war in Ukraine, persistent drought due to climate change in some countries, at times combined with conflict, and the ongoing economic impact of COVID-19 continue to drive up children's food and nutrition insecurity worldwide, resulting in catastrophic levels of severe malnutrition in children under 5. In response, Source: UNICEF
The Give Back Market is unique e-commerce/fulfillment platform that will be launched in 2023. It is being created to enable social enterprises, social purpose businesses and makers to connect with socially responsible consumers, businesses and organizations committed to Building Back Better by creating community value through social purchasing.

The main focus of the platform is to help alleviate food insecurity and support sustainable smallholder agriculture. This site is a prototype of a more robust social purchasing platform that to connect smallholder organic spice growers from around the globe directly to Western markets..
There's pepper and then there's Cambodia's Kampot pepper. You might think that the stuff that comes out of shakers and grinders is pretty much the same wherever you go, but to increasing numbers of chefs, restaurateurs and foodies, ordinary pepper bears as much resemblance to Kampot pepper as vin de table does to fine Bordeaux.

To all pepper lovers: Once you try Kampot Pepper no other pepper will do. Make Kampot Pepper – the best pepper in the world. Your tabletop choice helps farmers and feeds kids!
Social Purpose Platform coming Spring 2023!
Please come back in Q1 2023 when we officially launch the Give Back Market to see the rest of our starting lineup .
They will include the following makers/creators:
Spirit Works creates authentic Indigenous artworks, jewelery and custom art installations.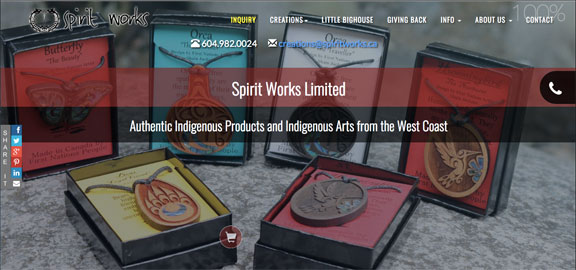 The Give Back Market is committed to alleviating food insecurity. One thing is certain and that is that what we really want is to end the need for Food Banks and and that can only be done through training, education and skills development leading to meaningful, living wage employment. We have recently revived the Digital Technology & Education Society focusing on creating opportunities for the unemployed and under employed. Please visit us.

A final note: There will be many more markers, growers and creators that will become part of our community as we grow. For example, this Social Purpose portal is a first step in the long-term vision for creating a community-based, Fair Trade distribution system not just for pepper growers and salt producers in Cambodia but for small organic spice growers around the globe. The $24 Billion global spice market is ripe for a 'Disruption for Good' play. Our long term goal is to secure 2% of that market and that would fund over one billion meals a year. That is our social purpose.